Photos of Louise Thaden at the 1929 Womens Air-Derby
Louise Thaden wins the 1929 'Powder Puff Derby' in the Travel Air biplane.
---
"Louise Thaden (left, winner), Gladys O'Donnell and Ruth Nichols (right) were three participants in the first Women's Transcontinental Air Race, that stopped off at Parks Air College on the seventh day of the 9-day derby. Thaden would take 1st place, O'Donnell 2nd and Nichols would crash during take-off on the last day. She was unharmed, but her accident would cause Amelia Earhart to go from 1st place to 3rd in the contest. (August 1929) [Print scanned from Henry Schnittger Photo Collection, PHO 63.0.3-3]" (From the Flickr page).
---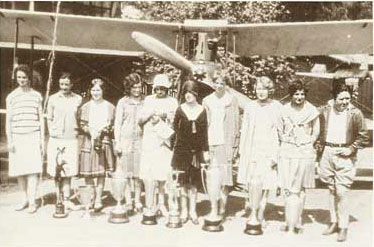 (L-R) Louise M. Thaden (winner), Bobbi Trout, Patti Willis, Marvel Crosson, Blanch W. Noyes, Vera Dawn Walker, Amelia Earhart, Marjorie Crawford, Ruth Elder, and Florence "Pancho" Barnes. (Two photos of the same scene from different angles.)
---
"Women pilots gather at Parks Air College during a stop-over of the first Women's Transcontinental Air Race (August 1929)" (From the Flickr page). The sixth from the left is Louise Thaden. (Two photos of the same scene from different angles.)
---